Our Christmis Menu are Live
For Xmas bookings click here
To make a booking, please call 0131 557 8820 or click the button to make it online
Reservations
To make a booking, please call 0131 557 8820 or click the button to make it online
A Gift Voucher
For Any Occasion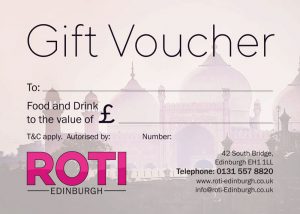 Order Online
Order your favourite dish online & we deliver
An Appetising Selection
We pride ourselves in the delicious Pakistani and Indian food we deliver. We are a Halal restaurant in Edinburgh and all of our dishes are Halal. We serve a delicious, traditional menu and offer a lunch menu consisting of Thali and Indian Tapas. We love to make people happy and we believe our food does this. The food we serve is always to a high quality, using fresh ingredients to ensure the rich flavours are prominent in all of our dishes.
Breakfast/Brunch is served every Sunday from 11:30am till 3:00pm.
Authentic Indian and Pakistani cuisine.